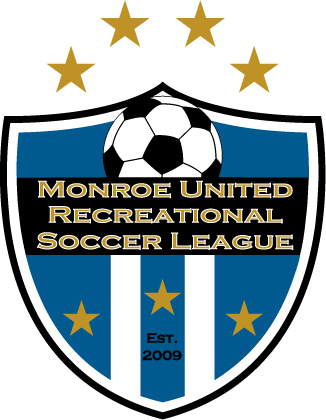 Welcome League Members
Mission Statement:

The Monroe United Recreational Soccer League embraces all Club and Town recreational programs that promote and enjoy organized recreational soccer in and around Monroe County. We offer a USYSA affiliated league with certified referees and firm side-line rules of conduct, linked to just to the right on this page.

Through collective co-operation, member programs will work together behind the scenes as well as on game day to provide a safe and enjoyable atmosphere for all staff members, families, spectators, referees & recreational players of all skill levels, conducive to the encouragement of the development of skills, teamwork & good sportsmanship.

The League focus shall always be on the enjoyment of the game of soccer for one and all.
A message from the League Executive Committee:
Consider what it says on the backs of all our Risk Management passes when participating in League play:
1.) Play the game for the game's sake.
2.) Be generous when you win.
3.) Be graceful when you lose.
4.) Be fair always, no matter what the cost.
5.) Obey the laws of the game.
6.) Work for the good of the team.
7.) Accept the decisions of the officials with good grace.
8.) Believe in the honesty of your opponents.
9.) Conduct yourself with honor & dignity.
 
Let's all work together towards making all of our League games a fun and enjoyable experience for all who participate - players, referees, coaches, families and spectators alike.