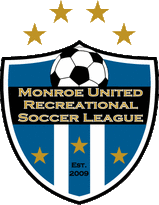 MURSL Game Change Request Procedure
The "MURSL Game Change Request Form" shown below is to be submitted by the HOME TEAM's League Representative, or the HEAD COACH OF THE HOME TEAM ONLY in order to RESCHEDULE a game.
​This form can be used to CHANGE the location, date and/or time of any scheduled game.
DO NOT use this form to CANCEL a game.
If an individual game is to be cancelled for any reason, the
Referee Assignor
must be notified DIRECTLY, with as much advance notice as possible. If an individual game is to be cancelled on the same day it is scheduled to be played, notifying the Referee Assignor PRIOR to 4 PM guarantees that game will be cancelled without incurring any fees. If the notification is made AFTER 4 PM, and the scheduled Referee is unable to be contacted in order to be notified of the cancellation, then that Referee will ultimately be entitled to the full game fee, which will be billed to the Club at the end of the season by the Referee Assignor.
The Referee Assignor's contact information can also be found
here
.
When a Club closes their fields on any given day due to field conditions or adverse weather, a notification must be sent to the League Chairman, so that the Referee Assignor and Club representatives can be notified, and so the closing can be posted on the League Field Closings Calendar.PLEASE DO NOT SUBMIT THIS FORM UNLESS YOU HAVE ALL THE REQUIRED INFORMATION!
The form is self-explanitory. If you point to the circled question mark (?) next to the header for each field, it tells you what data needs to be entered.Please follow the procedure outlined below for submitting a proper game change request:1.) Contact the opposing coach -
This is done by the Head Coach of the home team
.
Coaches should agree on three convenient reschedule dates.
Refer to the "
MURSL Coaches Contact List
"
2.) Contact Club/Town Director of Fields -
See your Club's website for contact information. Provide Director of Fields with the list of
new dates AND your League Representative's contact info. Wait for your Director of Fields to provide a suitable time, date & location in a return email.
3.)
Contact the opposing coach again -
After receiving an e-mail from your Director of Fields confirming date, time & field available,
inform them you are submitting a MURSL Change Game Request Form.
4.
Contact the MURSL Referee Assignor -
Send Referee Assignor information via the "MURSL Game Change Request Form", found below.
Provide the following game details:
Home team info:
Club name, coach's name, e-mail address & phone number.
Original game number
(found on MURSL FINAL schedule. DO NOT USE PRELIMINARY schedule information!!!)
Away team Info:
Club name, coach's name, e-mail address & phone number.
Indicate if Director of Fields
(home team)
has been contacted.
Indicate if away team's Head Coach is aware of the change.
Provide new date, time, game site/field & field designation
(e.g. 1, 2, pond field, etc.)
The MURSL Referee Assignor will then be responsible for the following activities:
Notify original assigned Referee that the original game has been cancelled.
Assign Referee to new game.
Confirm new game is scheduled - email will be sent to both home coach and away coach confirming the details for the new game.
If a confirmation response is not received regarding your request in a timely fashion,
contact the Referee Assignor directly for follow up.
*****ESPECIALLY FOR RESCHEDULING OF A GAME ON THE SAME DAY ITS SCHEDULED TO BE PLAYED*****AGAIN, PLEASE DO NOT SUBMIT THIS FORM UNLESS YOU HAVE ALL THE REQUIRED INFORMATION!*****Double check your forms for accuracy before submitting please! *****