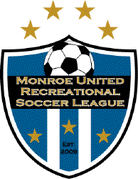 The Monroe United Recreational Soccer League is an avenue of equal opportunity for all recreational soccer clubs in Monroe County and the surrounding areas.

We offer developmental/recreational play for all children in the 10-U, 12-U, 15-U & 19-U age groups.
Our By-Laws and playing rules are structured in such a way as to promote good sportsmanship and fair play, and to provide a healthy, safe and enjoyable environment for all teams/players to come together in friendly recreational soccer games, where they can build character as they learn to enjoy the game, develop their skills, make some new friends and HAVE FUN!


Requirements for all League member Clubs:
1.) Club/Town programs applying for League membership not affiliated with NYSWYSA must be so affiliated no later than January 1st of the year of application.
2.) League Membership applications must be submitted no later than January 15th of the year of application.
3.) All coaches and Club personnel must be Risk Management certified thru NYSWYSA.
4.) Official RosterPro rosters must be submitted to the League Conduct Committee by 4/15. If an official roster is
not submitted, that team will not be scheduled for League play.
5.) Team counts and field availability must be sent to the League scheduler by 4/1.
6.) Clubs will receive an invoice from the League Scheduler at the end of the season for scheduling
fees, which must be paid in full no later than September 1st.
7.) Referees must be assigned by a certified Referee Assignor.
8.) Coaches contact lists and field locations must be submitted to the Webmaster by 5/10.
9.) Member Club/Town websites should include an active link to this site by 5/10.
10.) All teams and their associated fans must conform to the NYSWYSA/League rules and policies.


MURSL Age Groups:
1.) Boys 10-U, 12-U, 15-U & 19-U - play Monday & Wednesday evenings. Practice schedules TBD @ Club level.
2.) Girls 10-U, 12-U, 15-U & 19-U - play Tuesday & Thursday evenings. Practice schedules TBD @ Club level.


If your Organization is interested in joining our League, please complete the application form found here.